James Packwood Racing is able to supply and fit motorcycle brake components from the top manufacturers, with products to suit all applications and budgets.  A range of discs and pads are available for your motorcycle as direct replacements, or if upgrades are what you are after then you've come to the right place.  At James Packwood Racing we have experience with all the performance brake products we sell and can recommend the most suitable products for your application.  See below for more info or simply get in touch.  
Brembo is known all over the world as the leading supplier of performance brakes for motorcyles and cars, providing braking systems to the most recent MotoGP, Superbike and Formula 1 world champions.  As well as manufacturing and supplying OE brake products for many performance bike manufacturers Brembo have a great range of aftermarket products to fit most motorcycles, especially for the performance and track machines.  Brembo offer a range of brake pads from street use up to race use only carbon pads, brake and clutch master cylinders, brake discs, brake calipers and more.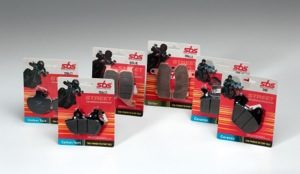 SBS is the world's leading manufacturer of motorcycle brake pads for street, off road and racing.
For more than 30 years our aim has been to offer the most complete range of motorcycle brake pads in a variety of friction materials developed to suit specific purposes like street, off-road and racing – always based on our philosophy: "The highest performance of brake system technology can only be achieved by selecting the best friction materials".  With brake pads to cater for all needs from from sintered pads for road use up to dual carbon compound pads for racing use only and fitments for most motorcycles, SBS is a great choice of brake pad.
Hel manufacture stainless steel braided brake line kits in the UK with pre-made kits for the majority of motorcycles in a range of colours. Also available are custom made brakelines to meet any requirements. Hel brake lines will increase the braking performance and feel of your motorbike, are essential for track use and will not require replacing like OE rubber lines.
Hel products are used and proven in the most demanding race series around the world including BSB, WSBK, Moto GP, IOM TT, IDM, W200, Dakar, BTCC as well as many more domestic championships such as Portuguese SBK, Spanish CEV and Italian SBK.
Starting from humble beginnings as an importer from a Holland supplier EBC Brakes has dominated the world market for motorcycle parts business with it's quality brake parts now for over 30 years . EBC Brakes has grown to manufacture its entire product range including aramid organic brake pads, sintered brakes for motorcycles including the world famous Double-H sintered brake pads, and its world number one selling aramid organic formula DMX brake pads. EBC Brakes also make carbon graphite brake pads for motocross and enduro use and sintered brakes for ATV and motocross bikes.