HealTech Electronics Ltd. was founded in Hungary, in the heart of Europe. Our story began in 2003, when we realized how far motorcycle speedometers are off, especially after a gearing change. In 2008 we set up our own surface-mount technology (SMT) production line so everything is designed, assembled and tested in-house.
Gear Indicator Pro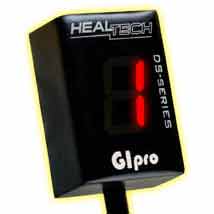 Fast and accurate
Instant and accurate indication of the selected gear for added control and safety. The sampling period can be adjusted to make the response quicker or slower, depending on shift speed and signal conditions..
Touch control
All settings can be done via the touch sensor so there's no opening on the housing, it is completely sealed and encapsulated in epoxy. The touch sensitive area is on the TOP of the unit. However, after programming, the unit can be mounted even with the top side stuck to the dashboard (via the sticky pads supplied) and will function properly. It can also be used with the optional GIpro Mount.
Quick installation
Plug 'n Go wiring harness, easy to mount display. Complete installation can be done within 30 minutes on most motorcycles.
Bright and effective display
Extra bright LED display, housed in a compact box. Available in 5 colors.
Auto brightness control
The brightness of the display is adjusted automatically according to the ambient light intensity. The sensitivity of the sensor can be fine-tuned in the menu.
Built-in Advanced TRE
With activated TRE (Timing Retard Eliminator) both throttle response and acceleration are improved in the lower gears. Also, the bike's top speed limiter is disabled on 1000+ cc bikes. TRE automatically switches off in Neutral for smooth idle operation and switches back to the selected mode when the gearbox is in gear. If a TRE device is installed on a bike equipped with in-dash gear indicator, the bike's indicator will show the mapped gear. However, the GIpro will indicate the gear selected regardless whether the built-in TRE is active or not. TRE is disabled by default. To comply with local regulations, do NOT activate TRE mode on public roads.
Auto Learning function:
The unit is pre-programmed to fit most motorcycles and it works out of the box. However, if needed, it learns the gear positions automatically, just start the learning function via the menu.
Compatibility:
Compatible with all HealTech and most aftermarket products, including quick shifters.
Robust design:
– Full SMT-design, encapsulated in epoxy
– Flash memory to store user settings even with the battery disconnected
– Only inspected, high quality components are built in
– Each unit is extensively tested prior to shipping, guaranteed to work
– 100% waterproof (IP68)
R&G Racing are design leaders in the manufacture of performance motorcycle parts, crash protectors, frame sliders, exhaust protectors, and fork protectors.
Speed Angle APEX GPS Lap timer
The SpeedAngle APEX GPS Lap timer is an essential accessory for any racer or track day rider, the data it collects helps riders to analyze their riding style easily, and provide an efficient way to improve the riding skill. You can easily overlay your logs and GPS tracking data onto Google Earth and have your rides replayed 3-dimensionally on the satellite photo images of the track. There is no limit to the tracks that can be overlaid onto (as long as they are available on Google Earth). You can see your riding lines against the track border, and a 3D model bike lean and accelerate just as you did. This feature allows you to compare your rides or compare with your friends' rides as if you are in a virtual race or back to back against your own lap data to help find you the quickest way around! 
Looking for a quote?
Get in touch.